Scout
CYGNET'S SCOUT AT BEARPAW, JH, CD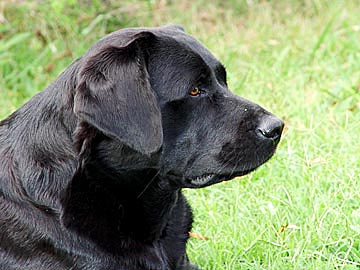 Clearances:
Chic # 24136; OFA Hips: LR-154466G24F-PI;
OFA EL: LR-EL28226F24-PI;
OFA Heart: LR-CA2020/32F/C-PI;
Cerf: LR-39019/2006-32;
Optigen Normal/Clear prcd-PRA, by parentage
Retired. For Viewing only.
A huge thank you to Jody Spring, Cygnet Labradors, for this lovely and wonderful girl. Scoutie is in her forever home, doing her forever job–by my side. She is the dog o' my heart.
See Scout's puppies by Visions I'm Able on our Puppies page!
After a RWB from the puppy class, Scout grew into a very talented performance dog. She earned her CD with high scores and placements, sailed through her Junior Hunter campaign, and is a true gentleman's hunting retriever, staying calm and quiet in the blind or at heel until charging out for her bird–which she will do all day long. She gave me a gorgeous bitch in Harper Lee, JH, so her legacy goes on!